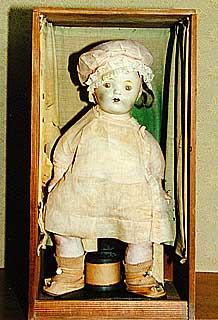 A "Blue-eyed Doll," given by America before the war with the hope of fostering Japanese-American friendship, will be on display at the "23rd Anti-Nuclear Peace Air Raid Exhibit" that takes places next month on the 11th at the Ise Lifelong Education Center in Kurose-cho. Over ten thousand dolls were given to schools throughout the country, but the majority of them were destroyed during the war as dolls of the enemy. Only nine dolls remain in Mie Prefecture. Through this exhibit of the doll who has gazed at the times both before and after the war, she continues to tell us about the meaning of war and peace.
According to the Saitama Peace Museum, there were 12,739 "Blue-eyed Dolls" that the American Dr. Sidney Gulick, a missionary who was pro-Japanese, gave to Japan in 1927.
At that time in America, a movement had arisen to expel immigrants who came from Japan, and anti-Japanese sentiment was increasing. With the idea that the dream of international peace might be entrusted to the children, dolls were collected from American children. These dolls dressed in handmade clothing were sent from New York Harbor to Japan.
These dolls made of celluloid, uncommon in Japan at that time, gained popularity among the children. However, Japan and America went to war, and they were called "ambassadors wearing terrible masks" when the wartime situation worsened. They were destroyed by stabbing them with bamboo spears and by burning them, and now only about 300 dolls remain.
The doll "Mary," currently on exhibit, usually is kept at Koshika Elementary School in Shima Town in Shima-gun. When she came to the school on July 10, 1927, it seems she could make sounds and close her eyes. War began between Japan and America, and a teacher concerned the doll would be thrown away hid her in the attic to escape harm. After the war, the doll was discovered when the school moved to a new building, and now she is kept in the principal's office.
Kazuya Nagasawa, a member of the executive committee (Chairman, Norio Nishiyama) sponsoring this Air Raid Exhibit, explains, "When war broke out, even the dolls were considered to be the 'enemy.' We want visitors to know that nothing is accomplished by hating each other."
The Air Raid Exhibit will be held for two days on August 11 and 12, 2001. In addition to Mary, records and photos of the Ise Air Raid, incendiary bombs, army goods, wartime living supplies, a drawing of the atomic bomb, and a panel of the Battle of Okinawa are planned to be on display. On the 11th at 3 p.m., Kaori Kanda will tell the story of "Barefoot Gen." On the 12th, the animation movie "Story of the Blue-eyed Doll" will be shown at 10 a.m., 1 p.m., and 3 p.m. Admission is free.
---