| | |
| --- | --- |
| Blue-eyed Doll | |
Blue-eyed Doll at Odaki Elementary School
Pleasant Sunshine
---
This doll is the school's treasure.
Here we want to introduce our school's Blue-eyed Doll.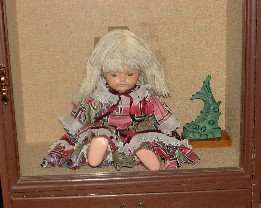 This is Odaki Elementary School's Blue-eyed Doll, Pleasant Sunshine. This doll came in 1927 as a doll ambassador, which was accomplished based on a proposal by an American, Dr. Sidney Gulick. After the doll came, each year a celebration took place at the school to remember the doll's arrival. When it became cold, the doll was given a blanket and they knit her a woolen hat and clothes and dressed her in them.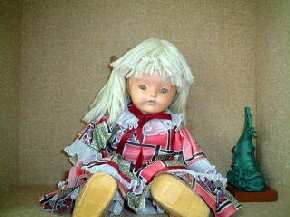 However, when the war become more intense, the dolls were considered to be a symbol of an enemy country. All over Japan the dolls were burnt and buried.

However, Pleasant Sunshine was protected. The principal at that time secretly hid the doll on a shelf in the science room.

In 1964, when the school building was rebuilt, Sunshine was found on that shelf.

Thus, Sunshine, protected by the people of Odaki, even now is displayed in a glass cabinet in the principal's office and is cherished as a treasure of the school. Like Sunshine, now there are about 300 Blue-eyed Dolls remaining throughout Japan. In the future we will continue to take good of Sunshine as a treasure of Odaki Elementary School.
---
This is an English translation of a Japanese web page (link no longer available).

Return to American Blue-eyed Dolls - Individual Dolls
---
Main Page | 1927 Doll Exchange | Japanese Friendship Dolls | American Blue-eyed Dolls
Mass Media / Books / Films | Letters
Other Friendship Doll Programs | Teachers' Corner
Links | Recent Changes | Acknowledgements | Children's Page