Special thanks to Ohdono Elementary School for permission to publish this web page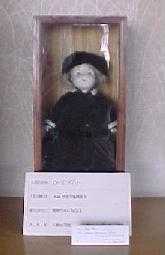 This is the doll that was given on April 5, 1927 by America and the Committee on World Friendship Among Children.
Blue-eyed Doll
(Well kept at Ohdono Elementary School)
Let's consider a nationwide topic of interest in this International Year of the Child. The Blue-eyed Dolls were sent to Japanese elementary schools and other educational facilities as Doll Ambassadors of Japanese-American friendship before World War II, but during the war the whereabouts of most of them became unknown. However, during this year it was reported that they were being kept safely at a few elementary schools. Their preservation is told as news that will warm people's hearts.
(from Yamaguchi Jihou, a local newspaper,
dated December 26, 1979)
---

This is an English translation of a Japanese web page (link no longer available).

Return to American Blue-eyed Dolls - Individual Dolls

Ohdono Elementary School's New Blue-eyed Doll - Tina

Friendship Visits to Ohdono Elementary School
- November 2001
- October 2002
- June 2003

---