Blue-eyed Doll
This is the doll kept at Yakumo Elementary School in Yakumo-cho in Hokkaido.
In 1927, with the hope of friendship between the two countries of Japan and America, about 12,000 dolls were given to Japanese children to show the friendly feelings of American children. The "Blue-eyed Dolls" were welcomed to elementary schools and kindergartens. One of these is being kept in the principal's office of Yakumo Elementary School. Judging from the facial features, the doll is like one made by the "Janeway Company."


---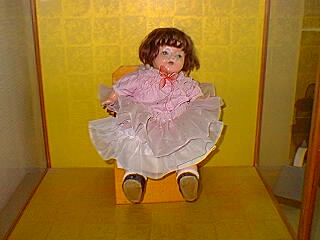 Friendship Doll From America (Name Not Known)
The "Blue-eyed Doll" being kept in the principal's office was given by the United States based on the "Doll Plan" devised by Dr. Sidney Lewis Gulick. In 1927 she came to Japan.
Dr. Gulick thought that international exchange between the younger generation was necessary to foster the "spirit of peace and friendship" in the next generation.
He published the idea of "world friendship through children," and he tried to extend the hand of friendship to Japan. In Japan, Eiichi Shibusawa, an elder leader in the financial world, made every effort to realize Dr. Gulick's idea. The Department of Education also cooperated with the effort.

The Doll Plan had the hope that friendship would sprout between Japan and America by fostering friendship between the children of the two countries. The Plan's supporters wish was to make Japan-US relations better and to avert the crisis of the anti-Japanese issue brewing in the US.

In the Doll Plan, about 2.6 million people worked together, including children and adults from all over America who were part of churches, Sunday schools, public and private schools, all types of children's organizations, PTAs, and volunteer organizations.

As a return present for the Blue-eyed Dolls, 58 dolls were sent to the United States from Japan. One of these was the Torei Ningyo (Doll of Gratitude) called "Miss Hokkaido," and she is being kept now at the Davenport Art Museum in Davenport, Iowa.
In 1942 (during the war), an order to get rid of the dolls was announced at a nationwide meeting of school principals. In the Oshima Region of Hokkaido, there was no exception, and in about 1943 it seems that the "Blue-eyed Doll" of Yamazaki National School (current Yamazaki Elementary School) was burnt and thrown away. At Usujiri National School, they say that the principal at the time reported to the school that "he himself had burned the doll," and then he kept it in the attic where he lived. Currently, the doll is kept in the principal's office of Kayabe County's Usujiri Elementary School.
Historical Background
In America of the 1920s, there were increasing calls for expulsion of Japanese immigrants, and Americans of Japanese descent were in the midst of great hardship. Immigration of Japanese to America had begun in 1868. People went to America as a way to escape from poverty. Anti-Japanese sentiments grew stronger for various reasons, such as ill feelings toward Japanese laborers who worked hard at even the low wage of a dollar per day, deep-rooted racial contempt by white people, and criticism toward Japanese who did not blend into American society. Anti-Japanese legislation was even proposed and passed by the California State Legislature.

Other Remarks
The American dolls cost 3 dollars each, and the Japanese dolls cost 150 dollars each. The monthly salary of an elementary school teacher at that time was 40 yen.
For the collection of money for the Torei Ningyo (Dolls of Gratitude), Hokkaido, with 1,608 yen, had the highest amount in all of Japan. (Tokyo - 1,420 yen, Osaka - 1,073 yen)


"Blue-eyed Dolls" Remaining in Hokkaido
| | | |
| --- | --- | --- |
| Unknown | Yakumo Elementary School | 140 Sumizome-cho, Yakumo-cho, Yamakoshi-gun |
| Bonnie | Toyomizu Elementary School | Sapporo |
| Fanny Pio | Clock Tower Memorial Building | Kita 1 Nishi 2, Chuo-ku, Sapporo |
| Betty Jane Rose | Futaba Kindergarten | Higashi 4-jo, Minami 10, Obihiro |
| Unknown | Junior High School of Hokkaido University of Education | Mihara 3 cho-me, Hakodate |
| Mary | Bibai Local Museum | Nishi 2-jo Minami 1, Bibai City |
| Jenna | Wakkanai Central Elementary School | Horai-doori, Wakkanai City |
| Elizabeth Ann | Benkebetsu Elementary School | 243 Benkebetsu, Tobetsu-cho, Ishikari-gun |
| Unknown | Buddhist Culture Hall | Midorigaoka, Hamatonbetsu, Esashi-gun |
| Unknown | Sanwa Elementary School | 412 Sanwa, Wassamu-cho, Kamikawa-gun |
| Mary | Usujiri Elementary School | 595 Usujiri, Kayabe-cho, Kayabe-gun |
| Unknown | Shiriuchi-cho Local Museum | 21-1 Omonai, Shiriuchi-cho, Kamiiso-gun |
| Hendren | Hidaka Elementary School | 254 Hidaka, Hidaka-cho,Saru-gun |
| Barbara | Hiratori Elementary School | Miyamoto, Hitatori-cho, Saru-gun |
| Betty Jane | Bikuni Elementary School | 214 Osawa, Bikuni-cho, Shakotan-cho, Shakotan-gun |
| Louisa Alcott | Futoro Elementary School | Futoro, Kitahiyama-cho, Setana-gun |
| Unknown | Nanporo Elementary School | Minami 14-sen, Nishi 9, Nanporo-cho, Sorachi-gun |
| Carole | Teshio Local Museum | 5 Kaigan-doori, Teshio-cho, Teshio-gun |
| Unknown | Kakuta Elementary School | 17-3 Kakuta, Kuriyama-cho, Yubari-gun |
| Unknown | Chirotto Elementary School | 185 Satsunaiaoba-machi, Makubetsu-cho, Nakagawa-gun |
Source: Blue-eyed Dolls, written by Eiko Takeda, published by Yamaguchi Shoten, 1985.

---
This is an English translation of a Japanese web page (link no longer available).
Special thanks to Akira Kagami for permission to publish this web page.
Return to American Blue-eyed Dolls - Individual Dolls

---