November 24, 1998 (Tuesday)
---
New "Blue-eyed Doll"
Mr. Kamikawauchi from Hiroshima Presents to Imafuku Elementary (Kanagi)
---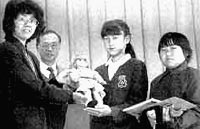 In the early Showa Period, "Blue-eyed Dolls" were given to Japan by an American missionary who hoped for friendly relations between Japan and America. On November 21, a "New Blue-eyed Doll" arrived at Imafuku Elementary School in Imafuku, Kanagi-cho (55 students, Principal Toshio Yoshimitsu), which has one of the two dolls remaining in Shimane Prefecture. Tetsuo Kamikawauchi (47 years old) of Kannabe-cho in Hiroshima Prefecture presented the doll. He has published information about the "Blue-eyed Dolls." At Imafuku Elementary School they will make good practical use of the new doll in their peace education activities.
In 1927, during a time of increasing anti-Japanese sentiment, the American missionary Mr. Gulick gave over 12,000 "Blue-eyed Dolls" to Japan as messengers of Japanese-American friendship. These dolls were distributed to kindergartens and elementary schools throughout the country. However, their number decreased sharply in the period during the war as they were burnt as enemy dolls. Time has passed, and now the existence of about 300 dolls in Japan has been confirmed. Only 2 dolls remain of the 182 given to Shimane Prefecture.
Mr. Gulick's grandson, following his grandfather's wishes, since 1987 has given each year to Japan about 10 "New Blue-eyed Dolls" dressed in handmade clothing. Up to now he has given about 130 dolls, and they tell us about the history of those days when the dolls were originally given to Japan.
Mr. Kamikawauchi was serving as the Chairman of the PTA at a local elementary school when a doll was found. Based on this opportunity, while publishing information about the doll, he has been spreading the message of the importance of the doll throughout the Chukoku Region, as well as the entire country. At Imafuku Elementary School, the "Old Blue-eyed Doll Katherine" is displayed in the hallway at the front entrance. October 18th was selected as "Blue-eyed Doll Commemoration Day," when students participate actively in educational activities to learn about the tragedy of war, respect for peace, and human love.
At Imafuku Elementary School on this day, after Mitsuyoshi Sakata (6th grade) explained the history of the dolls that were given with passports, Mr. Kamikawauchi handed over the new Blue-eyed Doll named Helen to the students.
Photo: "New Blue-eyed Doll" given to school. Mr. Kamikawauchi, who presented the doll, is the second person from the left. At Imafuku Elementary School Gymnasium in Imafuku, Kanagi-cho.
- Reprinted from San-in Chuo Shimpo - November 22 (Sunday)
---