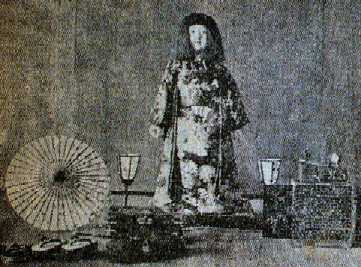 Location
Unknown

This spring over 12,000 cute dolls arrived from Japan's neighbor, the United States, which lies across the Pacific Ocean. These dolls were distributed to elementary schools and kindergartens throughout the country. There was a large number of dolls, 17 in total, that went to schools in our area of Atsumi-gun.

It's known by everyone that these dolls were sent by children in the country of America to Japanese children. Now our country has made 50 specially-crafted dolls to serve as messengers of gratitude. These 50 dolls, representatives of Japan's prefectures, will be sent to each of America's 48 states and to the District of Columbia. There will be one extra, which will be a spare if anything happens to the other ones.

What type of dolls are they if there are only 50 for a thank-you gift for the over 12,000 dolls received from America? Japan is known as an artistic country in the world. Even though the number is small, the following type of dolls were specially made because Japan wants to give beautiful items worthy of the country's reputation.
The dolls bend in three places and are over 80 cm in height. The arms and legs can move freely, and the dolls are made of carved wood that is painted. Each one costs about 150 yen.

The clothing is made of printed chirimen silk, and dolls even come with underwear. Each doll has a special obi (kimono belt) and a complete set of accessories, costing 150 yen.

The doll's personal effects, such as zori (Japanese sandals), geta (Japanese wooden clogs), a parasol, chests, and mirrors, cost 50 yen in total
The total cost of the 50 dolls made in the way described above, the doll's travel expenses, and miscellaneous expenses is about 23,940 yen. The money for the dolls was from many girls who contributed one sen (a half cent) each.
Since all of the Torei Ningyo (Dolls of Gratitude) were completed in the first part of September, one was sent to each prefecture. Exhibitions and farewell ceremonies were held for these dolls in various places in the prefectures for a month and a half.
Aichi Prefecture's doll is named Miss Aichi. The place of the farewell ceremony for Atsumi-gun was Tahara Chubu Elementary School's auditorium. On October 15, the American dolls that had come to the 17 schools in Atsumi-gun were welcomed to the assembly, and children who represented each of the 17 schools gathered together. A lively musical concert also took place. The attendees celebrated the farewell of Miss Aichi.
On November 3, the 50 dolls from each prefecture will assemble together in Tokyo, and a national exhibition and farewell ceremony will take place. Soon after, preparations will be very hurriedly made for the departure of these 50 dolls, messengers of gratitude, to go to America so that they will make in time for Christmas day on December 25.
Christmas is the day Christ was born, and Western children receive various presents from their fathers, mothers, and others on this day. Children receive such things as dolls, books, or toys they want. They decorate a room in their homes with a Christmas tree, and the children happily play. There is probably no holiday as fun as Christmas. How happy they will be if the Japanese messengers of gratitude arrive on this happy day.