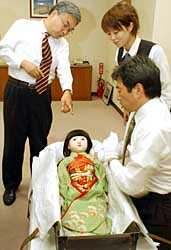 Akiko Satsuma returns home from US (Dec. 2, Yamakataya, Kinsei-cho, Kagoshima City)

Lustrous black hair with round black eyes. Akiko Satsuma, the Japanese Ichimatsu doll that went to America in 1927, arrived in Kagoshima City on December 2. On her return home, she will be displayed in a "Homecoming Exhibition" from December 5 to 10 at Yamakataya in Kagoshima City.

Akiko Satsuma was a return present for the "Blue-eyed Dolls" sent to Japan in 1927 as American friendship ambassadors. One doll was sent from each prefecture and colony, and among the 58 dolls in total, this doll was the representative of Kagoshima Prefecture. In 1997 it was discovered that the doll was being kept at the Phoenix Museum of History in Arizona.

The condition of the doll is good because it had been kept wrapped in cotton and white paper inside of a leather trunk. The design of pine trees and birds on the greenish-brown kimono and the pink lipstick retain their vivid colors. This doll, made at an exceptional price in those days, is exquisite, with details such as wrist joints and small dimples on her plump cheeks. Akiko Satsuma, who returned to Japan on September 19, spent two months in Tokyo, where cracks in the back of her head and shoulders were repaired.