I'm Momoko Okayama. Glad to meet you.
Miss Okayama's nickname decided.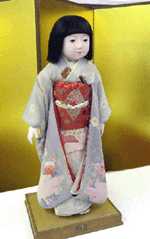 I'm Momoko Okayama. Glad to meet you. The nickname for Miss Okayama, the Torei Ningyo (Doll of Gratitude) that has returned home from America after 74 years, has been decided. Out of the 2,198 votes cast at several exhibition places across Okayama Prefecture and submitted through the mail since the first part of January, the name with the most votes was selected.
The name of "Momoko" received the most votes with a total of 395. Next were "Aiko" with 163 votes, "Sakura" with 120 votes, and "Momo" with 54 votes. It is remarkable the number of names submitted that relate to Okayama's specialty, peaches (momo in Japanese). In addition to Momoko, other names submitted included Momoe and Momoka.
Nearly all votes had the surname of "Okayama," with the most votes (307) showing the full name of "Momoko Okayama."
At 10:30 a.m., members of the Okayama Japanese American Cultural Exchange Society, which handled the homecoming and repair work of Miss Okayama, and other experts held a naming committee meeting in Okayama City and determined the name.
Mr. Yoshio Katayama, Director of the Society, says, "A pretty name with a connection to Okayama was selected. This name will probably also be popular with all Americans."
Photo: Miss Okayama, nicknamed "Momoko Okayama"
(published March 5, 2002)