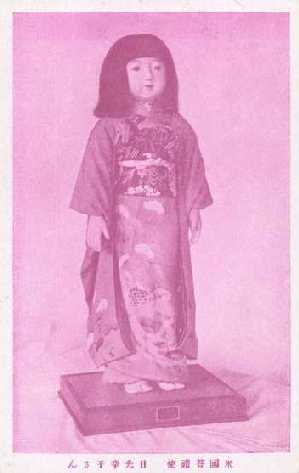 Location

Unknown

Miss Tochigi's name in Japanese is Sachiko Nikko. Nikko, located in Tochigi Prefecture, has long been famous for its shrines and temples, which are recognized as architectural masterpieces. Nikko has been designated as a World Heritage site.

After Miss Tochigi arrived in the United States in 1927, she was sent to the West Virginia State Museum in Charleston. However, the current location of the doll is not known.

The photo on this page is from a picture postcard of Miss Tochigi. This postcard, issued to commemorate the sending of Miss Tochigi to America in 1927, was published by Shimotsuke Printing Company in Utsunomiya, the capital of Tochigi Prefecture. There is also a postcard of Miss Tochigi's accessories. A special commemorative envelope was produced for the two picture postcards.