Granddaughter of Sidney Gulick, the giver of the dolls

Visit by Sharon Gulick
| | |
| --- | --- |
| Sharon Gulick | Dr. Sidney Gulick |
We invited Sharon Gulick to Watauchi Elementary School. She is the great granddaughter of Sidney Gulick, who sent the Blue-eyed Dolls in 1927. She came to visit on June 16, 2001.
We spent an enjoyable time with Sharon Gulick at a class session with the 5th and 6th graders and at an all-school assembly attended also by Watauchi Elementary's Blue-eyed Doll Mary. At this time Sharon read a letter from her father, Mr. Gulick, 3d. He wrote, "I want to give you this doll to be a younger sister to Mary and as evidence of the promise to build a rainbow bridge on behalf of world peace." We received Mary's younger sister and pledged to become adults able to cooperate with people from other countries. Our time together with Sharon is now a page in the history of Watauchi Elementary School, and we want to take good care of Mary and Paula.
Scenes from Sharon's Visit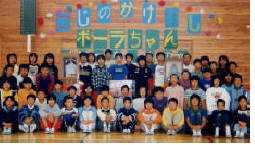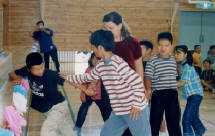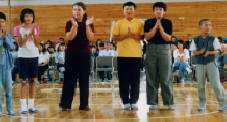 This is an English translation of a Japanese web page (link no longer available) created by the 6th-grade class (graduated March 2002) of Watauchi Elementary School.
Special thanks to Watauchi Elementary School for permission to publish this web page.

Main Page | 1927 Doll Exchange | Japanese Friendship Dolls | American Blue-eyed Dolls
Mass Media / Books / Films | Letters
Other Friendship Doll Programs | Teachers' Corner
Links | Recent Changes | Acknowledgements | Children's Page