Pleasant Sunshine
in principal's office
On February 27, 2007, the 317 students of Esashi Odaki Elementary School gathered in the gymnasium to celebrate the 80th birthday of their Blue-eyed Doll named Pleasant Sunshine. The children gave her an apron and a cake as birthday presents, and they all pledged to take good care of her always as the school's treasure. Pleasant Sunshine came to Japan as one of 12,739 Friendship Dolls sent by Americans as goodwill ambassadors to Japanese children, and she arrived at this school in Iwate Prefecture early in 1927. She came with a passport, a rail and steamship ticket, and the following letter:
Pleasantside
Peekskill, N.Y.
December 12, 1926

Children of Japan:

This will introduce to you - "Miss Pleasant Sunshine" our courier of sunshine.

This little lady brings you our very best wishes and we hope you will welcome her to your homeland.

May her presence add a link in the great chain of friendship which already exists between your country and our beloved America.

With best wishes for a very Merry Christmas and bright and happy New Year, we are,

Very sincerely yours,
The Pleasantside Presbyterian Chapel
At dinner with Principal Yoshiaki Takahashi (holding photo), Esashi Odaki teachers, Kei Sashima (standing on left), and Mieko Sashima (far right)
I found out about the Blue-eyed Doll at Esashi Odaki Elementary School when reading an e-mail in late August 2007 from Mieko Sashima. She wrote that teachers at the school were seeking information about other surviving Blue-eyed Dolls in Iwate Prefecture. I sent her a reply about the 16 remaining dolls in Iwate, including the one at Senmaya Elementary School, where I had visited the previous two years. I mistakenly thought she must be a teacher at the school in the way the note was worded, so I offered to come visit the school during my planned three-week trip to Japan in October. However, I found out in her reply that her husband Kei had attended Esashi Odaki Elementary School about fifty years ago, but she said her husband would contact the school's principal to see whether a visit could be arranged. She also explained that Esashi Odaki Elementary School's doll came from Peekskill, New York. Her daughter working in New York City at the time was planning to visit Peekskill City, north of New York City and on the east side of the Hudson River, to try to find out information about the church that sent Pleasant Sunshine to Japan in December 1926.

I met Yoshiaki Takahashi, Principal at Esashi Odaki Elementary School, and three teachers on Sunday evening prior to my Monday visit to the school. We went to a traditional restaurant in an old kura (storehouse). Mr. Takahashi started out by saying that he had a speech prepared in English, but he was very glad he did not need to deliver it to me since I could understand Japanese. He explained the history of Pleasant Sunshine, who was hidden in a corner of the science room during World War II to avoid destruction by those who considered the doll to be a symbol of the enemy. When the school building was being reconstructed in 1964, workers discovered the doll in the nurse's room along with the accompanying letter and passport. While we were waiting at the restaurant for food to be served, I was surprised when Kei and Mieko Sashima walked in to join us after they had driven about 90 minutes from Morioka City. They could only stay about 15 or 20 minutes before they had to leave, but I was very happy to meet the two people who had put me in contact with Esashi Odaki Elementary School. Although much of the dinner conversation centered on the school's Friendship Doll, we also talked about a wide variety of subjects such as how different generations could not recognize the songs of other generations. The principal, who will retire at 60 next March, mentioned a few songs that nobody at the table recognized. Vice Principal Teruhiko Yoshida, who was my same age at 50, remembered well the songs of the early 70s by American bands such as the Allman Brothers Band, Chicago, and Santana. He introduced himself with a very stylish business card that has a photo of the school's Friendship Doll. Chiaki Kusaka, a 5th-grade teacher who just got married a month before, talked about her honeymoon plans next February for a trip to Las Vegas, the Grand Canyon, and Los Angeles.
Listening to question from 6th-grade boy

On Monday morning we met first in the principal's office. I had the pleasure to first meet Koshi and Kimiko Hosokawa, who work with Earth Kids Space, an organization founded by the Goi Peace Foundation to sponsor events for children to learn about peace and respect for all life and our environment. Koshi, an accomplished photographer, presented me with CDs of photos of Iwate nature and of children in Earth Kids Space activities. Soon reporters from three or four local newspapers arrived and asked me and the principal several questions about the Friendship Dolls, Pleasant Sunshine, and my activities related to the Friendship Dolls.

School began on Monday with a short assembly in the gymnasium for all of the students to greet me. The principal told the students briefly about the significance of the Friendship Dolls sent by America to Japan, and I introduced myself. One 6th-grade student came to the front and read the following welcome to me:
Mr. Bill Gordon, we are glad you have come to Esashi Odaki Elementary School. We have been looking forward to meeting you.

There is a Friendship Doll named Pleasant Sunshine at our school. She is cherished by everyone at the school, and she is displayed with care. The 6th-grade students so far have studied about the time when Sunshine was sent from America and her discovery in the old school building. We created a play and presented it. Last school year everyone celebrated Sunshine's 80th birthday.

We think of Sunshine as a local treasure. We would like to know more about the doll and want to take good care of her. Today we want to learn a lot from you about Friendship Dolls. We look forward to your talk.

Esashi Odaki Elementary School
Duet of Kimiko Hosokawa and Principal Yoshiaki Takahashi
During the day's second and third class sessions, I spoke to the 5th and 6th graders separately about the history of the Friendship Dolls. During my first talk with the 5th graders, I asked whether any of the children had heard of the "Blue-eyed Doll Song," but nobody raised their hand. Then I asked the adults sitting in the back, and I inquired whether anyone could sing a little of the song. I was astonished when Kimiko Hosokawa of Earth Kids Space and Principal Takahashi led the singing of the entire song below:
A blue-eyed doll,
Made of celluloid,
Was born in America.
When she arrived at a harbor in Japan,
She had many tears in her eyes.
I do not understand the language.
If I get lost, what should I do?
Warm-hearted Japanese girls,
Please be my friends and play with me.
Please be my friends and play with me.
Recognizing the talent of Kimiko and Principal Takahashi, I had them come up to the front of the classroom during my next period's presentation to the 6th graders. The children clapped enthusiastically after they finished singing a magnificent duet of the "Blue-eyed Doll Song" in which their voices seemed to complement each other perfectly. Kosuke Yoshida, a retired man from Iwate Town interested in the Friendship Dolls, also came to listen to my talks, and at one point he explained to the 6th graders how the "Blue-eyed Doll Song" written by Ujo Noguchi in 1921 became associated with the Friendship Dolls received from America. His detailed explanation delivered with enthusiasm also drew applause from the students.
The children in each class session asked quite a few questions after my presentation. One girl wondered how both Friendship Dolls had been kept in such good condition for so long. I explained that Pleasant Sunshine actually had a new wig and dress, which made her not look as old. The majority of the Japanese Friendship Dolls sent to the US in 1927 had returned to Japan for restoration during the last 20 years. One boy asked whether there were any boy dolls sent in 1927, and I replied that there were a few but most were girl dolls. During my presentation I mentioned that 44 of the 58 Japanese Friendship Dolls sent to the US in 1927 have now been located, so a student asked what had happened to the other 14 dolls. I explained that there are no known instances where a Japanese Friendship Doll was destroyed during World War II like what happened to the majority of the American Blue-eyed Dolls. Most likely the remaining 14 dolls are still lost somewhere rather than being intentionally destroyed, so there is still hope of finding more of these historical dolls.
With 5th-grade students looking at doll

Mr. Takahashi, Principal at Esashi Odaki Elementary School, expressed great enthusiasm about his school's doll, Pleasant Sunshine. He had prepared a six-page history of the doll for me and newspaper reporters, and I was very surprised to find that my visit was already part of the history. The document prepared by Mr. Takahashi included statements from former teachers and students about what they knew about the doll's history. He wanted me to try help to search for some clues about who sent the doll, since the letter with the doll only had the name of Pleasantside Presbyterian Chapel in Peekskill, New York, without any names. He thought that maybe a local newspaper of the time might have some mention of the doll. He even wrote a letter that was translated to English, with attachments such as a copy of the original 1926 letter, for me to deliver to someone related to the Pleasantside Presbyterian Chapel. The last part of Mr. Takahashi's letter includes the following words about the doll:
She is placed in the principal's office in the same place as 80 years ago. She plays a special role in our school. Our children learn about humanitarianism from the doll's story. They understand the importance of international relations. They want peace for the world. She has turned 80 years old. Our school's children had a birthday party for her last February. The party appeared in some of the newspapers. One of our graduates read the articles, and came and visited our school. He looked for the Presbyterian Church, and he found Peekskill. I am looking for any history on the doll. Do you have any information in your documents? Is there anybody who knows about the doll? He or she must be very old. I am afraid it is too late to research it. But I enclosed all of the attachments about the doll in this letter. I'd be very glad if you would inform me of anything about the doll.
I told the principal that I would gladly try to contact someone next month in Peekskill, since it is only about two hours by car from my home in Connecticut.
After the day's program was completed, the Vice Principal took Kosuke Yoshida and me by car to Ichinoseki Station, and we stopped by a restaurant to eat some delicious sushi for lunch. When I returned back home to the US, I was very happy to receive a CD of about 100 photos taken by Koshi Hosokawa of the day's activities. Some of these photos have been included on this web page. I really appreciate the extremely warm welcome that the Esashi Odaki Elementary School teachers and students gave to me, and I hope I will be able to find out something in Peekskill, New York, about Pleasant Sunshine's history.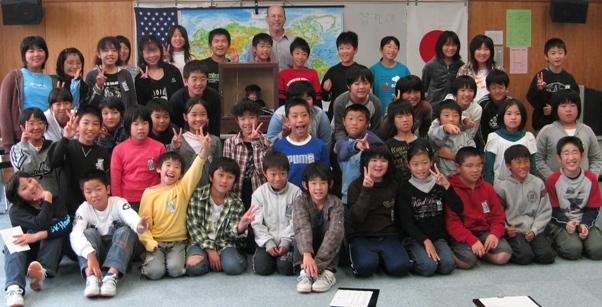 With 5th graders of Esashi Odaki Elementary School