Thank you for collecting funds for the homecoming of the doll Miss Kinuko Nagano. A 87,075 yen donation was collected from everyone at Tsukama Elementary School, and we sent the money to the "Japan Torei Friendship Doll Invitation Committee."

During the raising of these funds, we contacted the Shinano Education Museum since we have a doll in the home economics room that looks like a Blue-eyed Doll sent to Japan from America in 1927. The PTA Chairman, PTA Vice Chairman, and the Principal thought it must be a doll from those days, but there were some points they did not know well. They went to the Yokohama Doll Museum in Kanagawa Prefecture. When the museum curator saw the doll and confirmed their opinion, we knew it was a Blue-eyed Doll from 1927.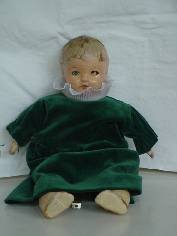 This Doll was sent to the branch schools (Kaichi-bu, Tamachi-bu, Tsukama-bu, etc.) of one of the common elementary schools in Matsumoto City. According to the Tsukama Elementary School 80th Anniversary Booklet, it is recorded that drawings and thank-you letters were sent in 1927 to America as thanks for this doll. About 12,700 dolls were given to elementary schools throughout the country, but only 27 now remain within Nagano Prefecture (as of November 20, 2003).
The dolls are very valuable since only two remain in Matsumoto City, one at the Former Kaichi School and one Tsukama Elementary School. Furthermore, the doll found at our school is a very rare doll whose eyes move up and down and left and right.
Now this doll has one damaged eye and has its hair pulled out, so we want to take good care of it and we are thinking about repairing it to its original condition.
Tsukama Elementary School was completely burned down by a fire in 1931. Please contact the school if you have any information about this doll regarding how it survived the fire, where it was kept after the fire, or who kept it. The people who were school children at Tsukama Elementary at the time the doll was sent would now be about 85 years old. Recent information is also fine, so we are waiting for much informaiton.
It's file to contact any school staff member, but Vice Principal Shinichi Chigono is our official contact person.
Telephone: 25-0090 Fax: 29-0868
Some information sent to us