On the 5th, Mr. and Mrs. Sidney Gulick, 3d, who gave the Blue-eyed Doll Joanna to Minami Elementary School and who are on a trip to Japan, will participate in a party held at the Minami Community Center. Atsumi Tanabe (66), a kimono maker in Fukawa-cho, has completed sewing a colorful kimono for Joanna, and she is looking forward to dressing the doll for her reunion with "Papa and Mama."

Mr. Gulick, continuing the work of his grandfather's desire from 70 years ago to give "Blue-eyed Dolls" for the purpose of friendship between Japan and America, has given over 100 "New Blue-eyed Dolls" over the past ten years to elementary schools and nursery schools throughout Japan. This is his fourth trip to Japan and his first visit to Hiroshima Prefecture, where he also will stop by Fuchu City.

Ms. Tanabe, whose granddaughter goes to Minami Elementary, cheerfully undertook the task of letting the Gulicks see Joanna dressed in a kimono in order to express to the Gulicks her feelings of thankfulness and to welcome them to Fuchu. She quickly borrowed the doll from the school, took its measurements, and then fashioned a pretty colorful kimono with a flower pattern. The obi was made like one of a bride by Ms. Ikumi, another kimono maker, by using some leftover cloth. She used magic tape to attach it to the kimono.

Ms. Tanabe says, "When I first saw the doll, I felt that the doll clothes were sewn by hand with great care. Later I heard that Mr. Gulick's wife sewed the clothes, just as I had thought. So I also eagerly sewed a kimono stitch by stitch." On the day of the party Joanna wearing her kimono will be shown before Mr. and Mrs. Gulick. The party will be on the 5th at 3 p.m., and there will be a welcome ceremony and speeches by Mr. and Mrs. Gulick. Also, at 2:15 Joanna and other new and old Blue-eyed Dolls from this area will be on public display in the building. Admission is free.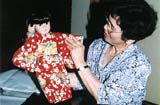 Ms. Tanabe takes a look at Joanna dressed in a kimono,
"It reminds me of a kimono I made for a Japanese
doll of my granddaughter 20 years ago."