Mrs. Bowles, an American in Tokyo, wrote the following description of the doll palace, which was gift from the Empress of Japan:
The doll palace in the Educational Museum is wonderful. It is a perfect Japanese house, surrounded with an exquisite Japanese garden, the whole enclosed in a huge glass case. Miss America is, of course, sitting in the place of honor; on either side, as guests, are a number of American dolls, together with a few Japanese dolls who act as hostesses. All over the garden are articles used for kindergarten games. Some dolls are sliding down the slide; others are on the see-saw; some are picking flowers. There are just enough Japanese dolls to act as caretakers and hostesses.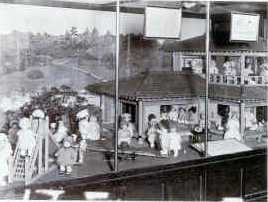 Doll House
Photo courtesy of
National Science Museum, Tokyo
No aspect of the Japanese reception to the American dolls fascinated American children more than the story of the doll palace, and the keenest interest was taken in the beautiful photographs of it that were sent from Japan.
A letter to the Minister of the Japanese Imperial Household from Sidney Gulick, members of the Committee on World Friendship Among Children, and other leaders of the Doll Program thanked the Japanese for their enthusiastic reception of the dolls:
We have learned with the greatest possible joy of the welcome receptions given the doll messengers, not only in the principal cities but in every part of Her Majesty's empire and in many thousands of schools.

We were particularly pleased to learn of the visit to the Imperial Palace of Miss America and her 48 state sisters, of Her Majesty's entertainment of the little visitors for an entire week, and then of her gracious gift of a wonderful doll palace in which they shall have a permanent home in the Imperial Education Museum in Tokyo. Photographs have already been received showing the dolls in their beautiful new residence.
Return to Receipt of Dolls in Japan
---