On the occasion when Blue-eyed Dolls and Japanese ichimatsu dolls (one from each prefecture) were exchanged with the objective of strengthening friendship between Japan and America, the letter below was written in 1927 by Hanae Hioki when she was a 6th-grade elementary school student. The letter is one of 163 letters from 150 schools in Mie Prefecture that accompanied the doll from Mie Prefecture when she was sent to America. Hanae wrote the letter as the student who represented Kasama Elementary School.
The doll "Miss Mie" from Mie Prefecture and the letters that accompanied her are stored at the University of Nebraska State Museum. In January 2009, they returned to Japan for an exhibition.
---
Dear American girls,
The ship is setting sail with a Black-eyed Doll that we are giving to you with the warm heart of friendship as thanks for the Blue-eyed Dolls that you, with a true heart of friendship, sent to us this spring.
The doll that you sent to us already has become accustomed to our region and customs, and she understands well even our language. With her charming pronunciation, she always tells us of your kind wishes for us. So we love her as a child and as a younger sister, and we do not let her go from beside us.
However, this doll that we now are sending to you by ship was born in the real countryside and was raised without knowing at all the world, so if she crosses the vast ocean and visits your beautiful homes, she may be sad when she remembers her hometown.
However, since she has a very gentle character and is friendly with others, I know that she soon will get used to you and will spend her time cheerfully with you. Please with us think of this doll and always have feelings of friendship.
Hanae Hioki, 6th grade
Kasama Elementary School
Inabe-gun, Mie Prefecture
Return to 1927 Letters - Japan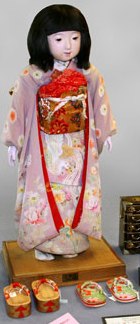 Miss Mie
---