Other Friendship Doll Programs
Mukogawa Fort Wright Institute
Dialogues have been created and continue between Japanese people, Japanese schools, and the American recipients of these Friendship Dolls. Cards, letters, artwork, scrapbooks, and dolls are crossing the Pacific.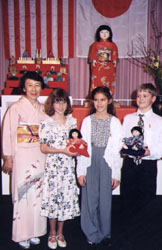 Renewed interest in the 1927 "Doll Plan" encouraged Mukogawa Women's University in 1993 to coordinate a similar venture of goodwill, the "Japan-US Friendship Doll Program." Japanese friendship dolls, which are donated, made, and bought with funds raised by Japanese citizens, are sent to the Mukogawa Fort Wright Institute (MFWI) in Spokane, Washington.
At the Hina Matsuri or Doll Festival on March 3rd every year at MFWI, the dolls are introduced and presented to schools and other organizations to encourage their study of Japan and world cultures. Each doll set comes with educational materials and a certificate with the donor's name on it.
Since the beginning, all 50 states and the District of Columbia have received over 1,000 friendship dolls. As a result, many new friendships are developing.
Here is some additional material related to the MFWI Friendship Doll Program:
If you are interested in learning more about the program, please feel free to contact the Japanese Cultural Center.
The Japanese Cultural Center
Mukogawa Fort Wright Institute
4000 W Randolph Road
Spokane, WA 99224
Phone: 509-328-2971
Fax: 509-325-6540
e-mail: jcc@mfwi.org
Mukogawa Fort Wright Institute (MFWI), founded in 1990 in Spokane, Washington, is a non-profit educational institution that provides intensive English and American culture classes to Japanese students from Mukogawa Women's University (MWU) in Nishinomiya in Hyogo Prefecture. The objective of the Fort Wright program is for the Japanese students to develop a more international perspective as modern global citizens. MFWI also has a Japanese Cultural Center which offers many cultural programs and exchanges for the region.