Ellen Held by Eiko Takeda,
who has written several books
on the Friendship Dolls (1982)

All over the state public displays were held, including one at the governor's mansion in Columbus. Mrs. Donahey, the governor's wife, opened the lower floor of the executive mansion for a public reception and display.

Then it was on to New York where a thousand dolls were brought together for a final farewell ceremony at the Hotel Plaza. Dolls were present from every state but one, as well as from Canada, Bermuda, and Palestine. What a wonderful variety of costumes -- Girl Scout and Camp Fire uniforms, Red Cross nurse outfits, and every imaginable type of American children's dress. There were baby dolls, a bridal couple with a best man, and a few rather terrified boy dolls. One sensational doll was nearly as large as a child and could recite several nursery rhymes. I saw only one other Quaker lady, Rebecca from Philadelphia, although there may have been more. Forty-eight dolls were chosen to represent the states with the forty-ninth to serve as Miss America.

Five friendly steamship companies contributed space on their ships for our delegation, some sailing from New York and others from San Francisco. Travelers of today who can fly in a few hours to any spot on earth might consider our voyage long and tedious. It was a matter of weeks rather than hours to go through the Panama Canal and across the broad Pacific. To me it was a rather welcome rest after all the excitement of our previous weeks. It was soothing to hear the creaking of the ship and the sound of water rushing by, accompanied by the whispers of all the little passengers. Skeptical people may think that dolls don't communicate with one another, but how do they really know?

Eventually we landed at Yokohama where great receptions were held, both on board the ships and in a school before a large audience of adults and children. Some dolls landed at Osaka but all gathered in Tokyo for the grand welcome on March 3, 1927. As planned, we had arrived in time for the annual Hina Matsuri or "Honorable Small Dolls' Festival," the traditional girls' day and Feast of the Peach Blossom.

The Japanese Young Men's Hall in the beautiful outer garden of the Meiji Shrine was the scene of the official reception. The large hall was almost overflowing with Japanese and American guests, including more than two thousand children. Seven princesses of the royal family were present along with many diplomats and high officials. Two large flags of Japan and America were on the wall behind the stage, which was decorated with an impressive set of Japanese dolls placed on shelves as they are customarily arranged for the doll festival. The program included songs, greetings, speeches, welcomes, and band music by the Toyama Military School Band. Forty-nine American girls from the American School in Tokyo spoke a message of good will and presented Miss America to the granddaughter of Prince Tokugawa. Then all the other forty-eight girls handed over their Friendship Dolls to the Japanese girls. Speeches were given by the American ambassador, Mr. MacVeagh, and by Viscount Shibusawa, honorary chairman of the Japanese Committee on World Friendship Among Children, a most distinguished and kindly man of eighty-eight years.

This event was representative of the welcoming receptions held all over Japan in the prefectural capitals, and then in the local towns and villages where we were to find new homes in primary schools and kindergartens all over Japan.

My Japanese home turned out to be some distance from Tokyo, although nothing is as far here as it is in the United States. I traveled to the Southwest coast to Nagasaki Prefecture on the large island of Kyushu, one of the four large islands which make up Japan, along with over three thousand smaller ones. One of these small ones, about two hours travel from the city of Nagasaki, is named Hirado Island. It has historical significance in that it was the first seaport opened to Dutch traders during the feudal period of Japan's history when there was practically no contact with the outside world. A kindergarten on Hirado Island was to be my new home and I could not have arrived at a lovelier season. The spring sunshine was warm and the delicate pink of the cherry blossoms was everywhere. It was quite different from the snow and cold I had left in Ohio.

Different also were the bright black eyes of the Japanese children but the warmth of their welcome made me feel quite at home. They had waited with eager anticipation for my coming and their eyes shone with happiness. They took great delight in singing the Welcome Song, holding me in their arms, and drawing many charming pictures. Photographs were taken, also, as no function in Japan is ever complete without a photograph to commemorate the occasion. As in schools all over the country, teachers helped with the writing of thank-you letters, written by hand on Japanese paper, delicately decorated.

It was not long before thousands of school girls were contributing small coins to help send fifty-eight large Doll Ambassadors of Goodwill to the United States in acknowledgement of the Friendship Dolls. These were created by the most skillful doll artists in the land and were dressed to represent Japanese ladies of the aristocracy in gorgeous robes of the most luxurious silk to be found in Japan. I have often wondered what has become of these lovely creatures. Perhaps some day I shall find out.

As the years went by I came to appreciate the gently changing seasons and the festivals and customs marking the different times of the year. My favorite, of course, was the Hina Matsuri or Doll Festival which has a very long history and shows girls the importance of tradition in marriage and family life. It is also a celebration that observes the birthdays of all Japanese girls.

Almost every family has a set of festival dolls which may be family heirlooms, passed down from mother to daughter. The basic set of dolls may be added from time to time. In preparation for the festival of the "hina dan," wooden boxes in the form of steps, are placed in the most important room of the house. There can be three to eight tiers, but five is the most common, with seven also popular. The steps are covered with a bright red cloth. At the top are placed the emperor and empress, elegantly dressed, with a folding screen behind them. On the second step are three maids of honor, or court ladies-in-waiting, along with tables with dishes for food and drink to be served to the emperor and empress. On the third step are five court musicians with imperial guards on each side. Here are also an orange tree on the left and a cherry tree on the right, placed in the manner these trees are always found in the Imperial Court. On the lower shelves are other dolls from the collection along with pieces of miniature furniture, tableware, and dishes, as well as peach blossoms. Miniature chests, screens, tables, cabinets, flowers, or almost any item a bride might carry with her to her new home may be displayed.

The time of the doll festival is the most exciting time of year for Japanese girls. It might be compared to the excitement American children experience at Christmas time. For weeks before the festival, shops display dolls and miniature food items. Girls have many duties to perform in connection with the festival. They must wash and polish all the items to be used. Also they help plan and purchase all the food to be served to the dolls and to all the friends who come to see the displays. On the day of the festival, March 3rd, traditional ceremonies are carried out with the girl of the family as hostess, dressed in her finest embroidered kimono and most beautiful sash of obi. The festival lasts only one day but the dolls are often exhibited longer, and then put carefully away for another year.

The dolls are served a complete miniature dinner, including soup, fish, vegetables and sweets. Food is first offered to the emperor and empress and other doll guests. Then small tables are prepared for friends and family who eat from miniature bowls and dishes.

I was honored to be included in the Doll Festival each year, sometimes in the home of one of the teachers or one of the students. I made hundreds of new friends as each new class started kindergarten.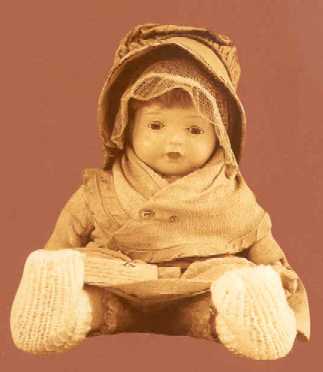 After a number of years (I must admit that I lost track of time) things began to be different. I could hear the teachers talking of the terrible war that was being fought all over the world. I felt very sad and disappointed when I learned that Japan and America were no longer friends, but bitter enemies. Had we Friendship Dolls failed in our wonderful mission? I did not think we had failed completely for some of the teachers were also sad about the war and did not agree with the militaristic leaders who were ordering teachers "to dispose of the American dolls sent by the enemies." I was really frightened when I heard that most of the friendship dolls were suffering brutal deaths. Some were being burned, some trampled on, and others pierced with bamboo spears to arouse in children's minds hatred against the Americans. However, I was reassured by the attitude of the teachers at my school. Two of the lady teachers argued that the Friendship Dolls had nothing to do with the war and they decided to lock me away in the school storage area until all the insanity was over. They maintained that people are different from governments and don't always approve of the foolish things governments sometimes do.
Thus it was that I began my years of living in a box in 1942. At first I kept wondering how soon someone would come and take me out. I was very lonely for all the children. As time dragged on I lost hope. It was then that I decided to follow the example of the Sleeping Beauty, whom I had heard about in a story. I would just go to sleep and time would not matter, even though it were a hundred years.
I did not sleep for a hundred years -- more like forty -- and it was not a prince who woke me up but someone cleaning out a dusty storeroom. I really didn't care, though. I was just delighted to join the real world once more. Fortunately my name tag was still intact along with the information that I had come from Wilmington Friends Bible School. It seems that I was the first Friendship Doll to be discovered in Nagasaki Prefecture and the event was publicized in the newspapers and on television.
I was restored to my former honored place in the Hirado Kindergarten and once more became the friend of children. It took me some time to get used to all the changes that had taken place during my long sleep. I learned that I was fortunate to have survived the war. Even the dolls who were hidden away in the city of Nagasaki had been destroyed, along with countless people in the terrible bombing of August, 1945. I was very sad to know that it was the Americans who had dropped the atomic bomb. At the same time I was encouraged to learn how the survivors in devastated Nagasaki had regained the spirit and rebuilt their city. I felt proud to live in my adopted country of Japan, which has not spent large wasteful sums of money on armaments, but has built up useful industries.
A noted author of children's books, Eiko Takeda, came to visit me, along with Hirobumi Toyama, a high school teacher of English from Nagasaki. Thus it came about that I was included in a book written to help Japanese students learn English. It is called Little Mary, the Blue-eyed Doll, and is about a fictional Friendship Doll named Mary who was burned up in the Nagasaki bombing. I am also included in another book edited by Eiko Takeda about all the one hundred and seventy Friendship Dolls which have been discovered throughout Japan. Unfortunately for my American friends in Wilmington who have received a copy of this book from Hirobumi Toyama, it is entirely in Japanese and they will need help in translating it.
Another book in which I appear briefly is Dolls of Friendship, published in 1929 by the Committee on World Friendship Among Children. This book, now sadly out of print, describes in great detail the entire project, as well as the sending of the Japanese black-eyed ambassadors to America.
If anyone reading my story should ever visit Japan, do come and see me in the Hirado Yochien (Kindergarten), 1219-1 Iwanoue-Machi, Hirado City, Nagasaki Prefecture. I feel certain that this is not the end of my story -- merely the close of one chapter. I hope that the miracle of my survival will inspire many more bridges of friendship across the world.
___________________________

Author Mary E. Stanfield is USFWI Secretary of Peace and Social Relations. She is a member of Wilmington Friends Meeting, and librarian in Xenia, Ohio. She represents USFW at annual meetings of Friends Committee on National Legislation, William Penn House Committee and the Friends Coordinating Committee on Peace. Her special interests are New Call to Peacemaking, Nuclear Freeze Movement, simplified lifestyles, women's rights, world hunger and sharing of resources.
Appendix A - Sources of Information
Appendix B - List of organizations in the Clinton County area that purchased and dressed 58 dolls