Passports of Blue-eyed Dolls
Each of the 12,739 Blue-eyed Dolls sent to Japan in 1927 had her own passport. Many of the original passports have disappeared or were destroyed over the years, but a few have survived.
Some of the passports have become discolored and tattered, like the one shown on this page. However, these passports, along with the Blue-eyed Dolls, are still treasured by the Japanese schools who have them.
Passport Cover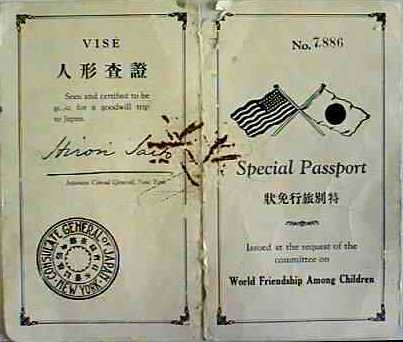 A leaflet, published by the Committee on World Friendship Among Children, gave the following guidelines regarding the doll passports:
In addition to the ticket, each doll should have a passport. This, the children can be told, is a letter of introduction from the government of the United States to that of Japan, giving assurances that the traveler is a well-behaved citizen of the United States and will observe with care the laws of Japan during the proposed visit. The passport, to be effective, needs the visa of the Japanese Consul General. This visa signifies that the Japanese government has examined the passport of the prospective traveler and not only permits entry into the country, but agrees to take good care of the traveler during the period of the visit.
Inside of Passport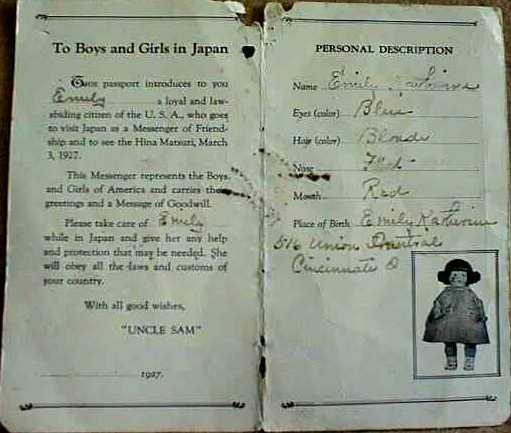 The passport shown on this page belongs to Emily Katherine, beloved Blue-eyed Doll at Sakihama Elementary School in Kochi Prefecture. The following links show other Blue-eyed Doll passports:
The New Blue-eyed Dolls, which have been given to Japanese schools in recent years by Sidney Gulick, 3d, and his wife, also have passports. Some of them are shown at the following links:
Helen - Yamagata City Daiju Elementary School, Yamagata Prefecture

Jean - Yamagata City Zao Daiichi Elementary School, Yamagata Prefecture

Audrey - Minami Hirata Elementary School, Yamagata Prefecture
Some of the other new dolls given to Japanese schools have also come with passports: