---
Report on the New 100-School Project Plan
Blue-eyed Doll Project
Yokohama City's Honcho Elementary School
Kazuo Deguchi, Teacher
---
1 Introduction
The purpose of this project can be expressed briefly as:
"Let's connect by the Internet the Blue-eyed Dolls remaining throughout Japan, and let's consider world peace!"
However, there are only about 300 Blue-eyed Dolls (described in detail in next section) in the entire country, and moreover among these there are only a very few facilities that currently have Internet connections. Therefore, the things reported here are only the start of a multi-year project. Based on the opportunities presented by this project plan, I am hoping, after a few years, for the development of a "movement to realize world peace through the Internet" led by schools around Japan that have a Blue-eyed Doll.
---
2 About the Blue-eyed Dolls
The "Blue-eyed Dolls" are the dolls that were given in 1927 by the United States of America to Japanese elementary schools and kindergartens based on the work of Dr. Gulick I to improve friendship between Japan and America. Also, based especially on the efforts of Eiichi Shibusawa, 58 Ichimatsu Dolls, also called Torei Dolls (Dolls of Gratitude), were given to America. However, a great number of the Blue-eyed Dolls that were at that time "symbols of Japanese-American friendship" were disposed of during the Pacific War (World War II) as "dolls of the enemy country." Today the number that have been confirmed is only about 300.
After the war, in the period up to the late 1980s, each time a doll that had been hidden was discovered, it was broadcasted on NHK Television. When Eiko Takeda published her book, these "Blue-eyed Dolls" were highlighted several times. However, even though there was a temporary boom in popularity, their existence is being forgotten in people's memories.
Even now, Mr. Gulick, 3d, (grandson of Dr. Gulick I) continues the activities of giving "New Blue-eyed Dolls," and Eiko Takeda also is continuing her investigation activities. Also, in 1997 there was news that a doll had been newly discovered in Hokkaido. When the former wooden schoolhouse was being rebuilt with reinforced concrete, the discovery of a new doll was quite unexpected. The "Blue-eyed Dolls" are valuable resources that make one think about "peace." I think that it will be good if we can communicate to more elementary school students across the country about the unfortunate fate and the historical facts of the "Blue-eyed Dolls."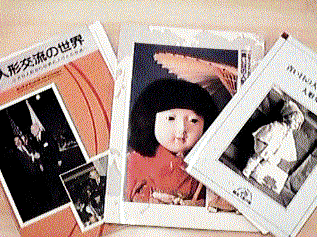 ---
3 Activities that Made Use of Internet
(1) Putting Together a Blue-eyed Doll Page and a Linked Network
By 1996, among the schools participating in the 100-School Project, it was confirmed that there was a "Blue-eyed Doll Page" at the two schools of Yokohama City's Honcho Elementary School in Kanagawa Prefecture and Otsu City's Hirano Elementary School in Shiga Prefecture. Also, we were able to connect by e-mail to the individually-created pages at Koshiya City's Osawa Elementary School in Saitama Prefecture and Shitara Town's Damine Elementary School in Aichi Prefecture, so we reached the point of creating a Blue-eyed Doll linked network.

In 1997, based on this project plan, I planned to expand this linked network primarily through (1) PR activities by various types of educational organizations, (2) collecting information obtained by contacting the Yokohama Doll Museum, and (3) working on an information search by using Internet search engines. The following links were added: Yawatahama City's Kamiyama Elementary School in Ehime Prefecture, Tonami City's Takanosu Elementary School in Toyama Prefecture, Yakumo Elementary School in Hokkaido, Hirata Town's Minami Hirata Elementary School in Yamagata Prefecture, Nagano City's Watauchi Elementary School in Nagano Prefecture, Kamiyama Town's Jinryo Elementary School in Tokushima Prefecture, Nango Village's Museum of History and Folklore in Aomori Prefecture, and Fukuyama City's Kanae Elementary School in Hiroshima Prefecture, Kochi University materials, and materials from California.

As of February 1998, 12 Blue-eyed Dolls have been connected by Internet. It is still only 12 three hundredths of the total, but slowly but surely the number is increasing. I am thinking I want to continue my activities to develop more as the Internet continues to grow in popularity.
(2) Establishing the Blue-eyed Doll Mailing List
I established the mailing list as a way of contacting others to exchange information about the Blue-eyed Dolls throughout the country and to carry out joint events. It is not being that actively used, but it is being used for such things as the planning of Blue-eyed Doll events, especially on March 3.

Mailing List Name

"Blue-eyed Doll" Mailing List blue-eye@edu.ipa.go.jp

Mailing List Objectives

"Peace education" and "international exchange" through the "Blue-eyed Dolls"
Information exchange between schools publishing "Blue-eyed Doll" pages and between other interested individuals and organizations
Assembling and making public the information about "Blue-eyed Dolls" in various places
Calls for nationwide events (during summer vacation and on March 3)
Organizational capability to make contact between the approximate 280 schools nationwide that have a Blue-eyed Doll
Exchange by Internet with American schools having dolls or offering dolls
Reproduction whenever necessary of Blue-eyed Doll related public information from the Yokohama Doll Museum

Intended Users of Mailing List

Persons doing research and collecting materials concerning the Blue-eyed Dolls
Persons in charge of facilities having a "Blue-eyed Doll"
Persons interested in "peace education" and "international exchange"
Others (such as translation volunteers)
(3) Toward a Nationwide "Blue-eyed Doll Gathering"
On March 3. 1997, following the previous year's Blue-eyed Doll Blossom's Homecoming Gathering, we had an All-School Meeting on the day of Hina Matsuri (Doll Festival). At that time the sixth-grade students sent the following message by Internet:

We must take good care of these Friendship Dolls because American children sent them to us with their best wishes. We can not hold a big ceremony like 70 years ago, but at least please try to sing the "Blue-eyed Doll Song" and the "Hina Matsuri Song." Don't you think that we want to celebrate Hina Matsuri together with the Blue-eyed Dolls like they did 70 years ago? We want to celebrate at our school. Why not try celebrating at whatever school you are at?
We thought that by hearing the voices of these children couldn't there be across Japan a "Blue-eyed Doll Time" on March 3. At the stage we are at in 1998, since there are only 12 facilities that have dolls with which we can connect by Internet, a nationwide scale was not possible, but we are trying to make public through the Internet activities around March 3 at several institutions.

As one of these activities, we realized an interchange between Yokohama City's Honcho Elementary School in Kanagawa Prefecture and Hirata Town's Minami Hirata Elementary School in Yamagata Prefecture by using the Television Meeting System. As we introduced our Blue-eyed Dolls and communicated that our dolls are important treasures, we strengthened our feelings about trying to connect the Blue-eyed Dolls that are throughout Japan and to think about peace.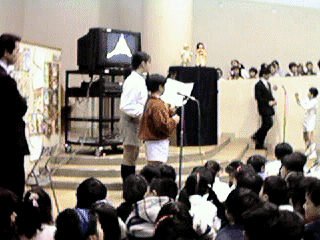 ---
4 New Start
When I look back at what was able to be accomplished in the one year this plan has been in existence, it may be thought that only small steps have been taken. However, one can say there have been the large steps in 1997 of increasing the number of schools on the linked network from 2 up to 12, bringing about the capability to contact each other by a mailing list, and as an outcome of that list being able to carry out an exchange using the Television Meeting System. Also, as for non-Internet activities, we were able to make big accomplishments such as: (1) the number of schools adopting the "Blue-eyed Dolls" for inclusion in social studies and morals classes increased, (2) we contacted the Yokohama Doll Museum and exchanged information, and (3) activities spread to confirm the whereabouts of the "Blue-eyed Dolls" in every place around Japan.
This plan will be completed in accordance with this report. However, as I stated in the beginning, this project that will take several years has just begun. I am continuing my activities to realize the dream that in three years in 2001 all schools have been connected by the Internet and there will come a day when over 300 Blue-eyed Dolls will be able to assemble together through the Internet.
---
---
Published with permission of Kazuo Deguchi.
This is an English translation of a Japanese web page (link no longer available).
Return to American Blue-eyed Dolls - Web Sites in Japan

---