Miss Okayama
and Her Times

1 - Homecoming
74 Years Since Going to America
Repaired in Home Country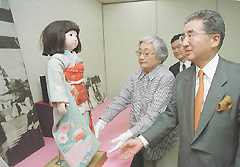 | | |
| --- | --- |
| | Miss Okayama, returned home 74 years after going to America. "She seems so familiar even though this is the first time meeting her," say those present at Yoshitoku. |
"Wow," Tokubei Yamada 11th (62 years old) unconsciously lets out a sound. He is president of Yoshitoku Co. (located in Asakusabashi, Taito-ku, Tokyo), which is a doll manufacturer and distributor that has been in business since the middle of the Edo Period (1600-1868).

"She has been very well taken care of. She's pretty."

A well-rounded white face with a head of bobbed hair. A sky blue kimono with a design of chrysanthemum flowers. The people present draw near and gaze at the cute 81-centimeter tall Japanese doll that appeared from a wooden box.

This is Miss Okayama, who had her damaged areas repaired by the doll manufacturer Yoshitoku. Next year in May, dressed up in her best clothes she will attend an exhibition held at the Japanese American National Museum in Los Angeles to commemorate the 50th anniversary of the San Francisco Peace Treaty.

"Although this is my first time meeting her, she seems familiar as if meeting a long-separated daughter," says Mr. Yamada. She has a long-sleeved kimono of chirimen silk, a long undergarment of golden silk gauze, and a Nishijin woven silk obi (belt for kimono). A chest of drawers, a large oblong chest, a mirror, tea utensils, and other items also went along with her across the ocean. The doll cost 350 yen at a time when the average daily wage of a male factory worker was 1 yen and 60 sen.

On October 10, 1998, 71 years after Miss Okayama traveled to America, a letter came to the Okayama Prefecture Governor, Masahiro Ishii. "I want to assist in the homecoming and repair of Miss Okayama," he said.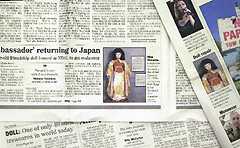 A Local Newspaper in North Dakota Tells the Story of Miss
Okayama's Homecoming

The sender of the letter was Michiko Takaoka, the Director of the Japanese Cultural Center at the Mukogawa Fort Wright Institute, which is the American campus of Mukogawa Women's University in Nishinomiya City in Hyogo Prefecture in Japan. She found out about the Japanese-American Friendship Dolls in 1992, and since then she has been engaged in confirming the whereabouts of the dolls in America and introducing Japanese culture to Americans.

The letter tells about Miss Okayama being a witness to important history and about how North Dakota State University, who owns the doll, worked to preserve her. "Now the doll has noticeable damage, but she can again have contact with children if she is repaired. The university staff earnestly desire to 'have her again play the role as a goodwill ambassador,'" concluded the letter.

The Okayama Japan-America Cultural Exchange Society, who received advice from the Prefecture, began to work toward realizing a homecoming. They exchanged letters with people in America for about three years, and on August 30 of this year a society member who went to America returned to Japan with her. "I want to promote how wonderful it is to have international exchange through dolls," says Yoshio Katayama, Director of the Society.

When Mr. Yoshitoku examined Miss Okayama, he found that the left leg was split, the back of the neck and the area between the face and both ears had cracks, and the connecting parts of both shoulders and both knees were damaged. He says repairs are possible also for the kimono, which has been faded by the sun.

(published September 23, 2001)
---
---