Miss Okayama
and Her Times

3 - Farewell Ceremony
Giving Encouragement to the "Messenger of Peace"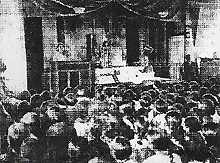 | | |
| --- | --- |
| | "Miss Okayama" Farewell Ceremony, October 21, 1927, at Okayama Prefectural Education Hall (from Sanyo Shimpo newspaper) |

The Japanese-American Friendship Doll "Miss Okayama" left from Yokohama Bay by ship for America on November 10, 1927. Miss Okayama went together with 58 other dolls, including the doll representing all of Japan (Hideko Yamato), dolls from other prefectures, and dolls representing colonies such as Taiwan.

On October 21, before the final farewell ceremony in Tokyo (on November 4), there was a farewell ceremony for Miss Okayama at the Prefectural Education Hall in Okayama City. About 300 girls from Okayama City elementary schools attended. The "dolls of friendship" that were given to Okayama Prefecture by America in March of that year also were lined up as guests.

"Goodbye, Miss Okayama,." reported the Sanyo Shimpo newspaper (predecessor to the Sanyo Shimbun) on the following day (October 22). There was also a large photo.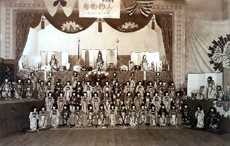 | | |
| --- | --- |
| | 58 Japanese dolls lined up at the welcoming ceremony in San Francisco on November 27, 1927 (photo provided by Yokohama Doll Museum) |
One representative each from eight schools, standing beside Miss Okayama on the doll stand, encouraged her with words like, "Become good friends with the blue-eyed children and play with them." "If you become lonely, do a Japanese dance and sing a Japanese song." Everyone sang "Crossing all the way over faraway seas and mountains, going to that country that is nice like our country Japan ..." and "A Goodbye Song to Our Dolls."

The 58 Japanese dolls, messengers of peace, after passing through Hawaii, arrived in San Francisco on November 25 to make it in time for the Christmas season. After visiting about 500 cities throughout America, they were distributed to each of the states.


Yayoi Sumida

According to the Sanyo Shimpo newspaper, the 350 yen that it cost to make Miss Okayama was provided by donations of one sen (about a half cent) each from young girls throughout the prefecture.

Yayoi Sumida (83, resident of Funabashi City, Chiba Prefecture), when she was a second-grade student at Ishii Elementary School in Okayama City, gave words of encouragement to Miss Okayama at the farewell ceremony. She talks about Miss Okayama's homecoming with deep emotion, "It is great that she made it through the war." She remembers, "There were two Blue-eyed Dolls lined up in the hall, and we also sang 'The Blue-eyed Doll' (by Ujo Noguchi), a song which was popular at that time."


Shozuko Inagaki

Shozuko Inagaki (82, resident of Fuchu City, Tokyo), who was a classmate of Ms. Sumida at Okayama Girls' High School (current name: Sozan High School), also attended the farewell ceremony as a representative from Mikun Elementary School.

"It seems that I was selected because my father, who was an elementary school teacher, had traveled to the United States as a teacher. I am a person who has lived a long life. I really want to meet Miss Okayama again," Ms. Inagaki says with a lively voice.

(published September 25, 2001)
---
---