Miss Okayama
and Her Times

8 - New Bonds of Friendship
Crossing Generations, Tying Together
People's Hearts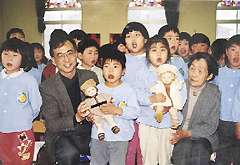 | | |
| --- | --- |
| | Mr. Kamikawauchi (man at left), who is continuing his "Trips to Meet Dolls" throughout Japan, with Mary (at left) |

Independent businessman Tetsuo Kamikawauchi (50, resident of Kannabe-cho, Hiroshima Prefecture), who serves as Chairman of the Hiroshima "Friendship Doll" Group, has for seven years continued his "Trips to Meet Dolls," visiting Japanese-American Friendship Dolls throughout Japan.

He is accompanied by an American "Friendship Doll" given 74 years ago to Yuda Elementary School, located near where he lives. Riding in his small station wagon, he has met 112 dolls from Aomori Prefecture in the north to Oita Prefecture in the south.

In 1992, when serving as the Chairman of the PTA at Yuda Elementary, he had the opportunity to discover the doll's story as he investigated the school's history. In 1952 after the war, the doll, whose existence had long before been forgotten and whose clothes and shoes had become worn out, was about to be thrown out and burned during a big cleanup of the school. Mr. Masue Fujita (82), who was enrolled at the school at the time the doll was given, received the doll and kept it at his own home.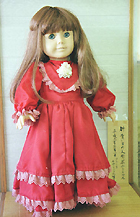 | | |
| --- | --- |
| Bonnie, the new doll given to Seibi Kindergarten | |
Mr. Kamikawauchi, who was impressed by Mr. Fujita's warm feelings, told this story at a school assembly in 1993. He decided to visit the "Friendship Dolls" remaining in Japan.

The real name of the doll at Yuda Elementary is not known, so she was named "Mary" by the children. " Like Mary who was preserved by her fortunate encounter with Mr. Fujita, other dolls also have various stories to tell. Everywhere new exchanges and friendships are springing up," explains Mr. Kamikawauchi.

Since 1987, Sidney Gulick, 3d, the grandson of Sidney Gulick, who promoted the doll exchange, has given about 160 New Blue-eyed Dolls to elementary schools and kindergartens throughout Japan. In his message he writes, "this doll is given in the same spirit as my grandfather." Four years ago he sent "Bonnie" to Seibi Kindergarten in Nariwa Town.

Sharon (23), the second daughter of Mr. Gulick, 3d, was working until this summer for two years as a language teaching assistant for the Board of Education of Takaoka City in Toyama Prefecture. Before returning home, on August 10 she was invited to a gathering in Fukuyama City, and she gave new dolls on behalf of her father to Tomo Kindergarten in Fukuyama City and to Kotohira Minami Kindergarten in Kotohira Town in Kagawa Prefecture.

"The silent dolls have crossed generations and have tied together people's hearts," says Keiko Wakabayashi, curator at the Yokohama Doll Museum (in Yokohama City), which has a permanent exhibit called the "Friendship Doll" corner.

In Okayama Prefecture interest in the Japanese-American Friendship Dolls has been increasing because of the homecoming of "Miss Okayama." Prefectural Governor Masahiro Ishii, who received a letter from America regarding this matter, says, "I am hoping the restoration will be finished and the doll can be shown to the people of this prefecture."

Miss Okayama is now being taken apart and repaired at Yoshitoku, a doll company in Tokyo with a long history. A new "life" will be infused into the doll by the hands of skilled workers.

(End of Series)

Takayuki Ota and Mika Hirai had responsibility for this series.

(published October 2, 2001)
---
---