Miss Okayama
and Her Times

5 - Nariwa's Anna
Foundation of New
Japanese-American Friendships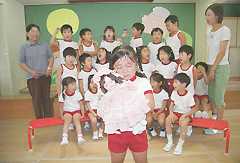 | | |
| --- | --- |
| | Annual events at Kakumei Kindergarten are held together with Anna |

Okayama Prefecture's Nariwa Town, where there remains traces of its prosperity as a military camp town in the Edo Period. An old black-and-white photograph is displayed in the teachers' room of Kakumei Kindergarten, located in Shimohara, Nariwa Town.

59 children lined up with serious faces. The boys in the last row hold in both hands Japanese flags, and a Western doll sits on a stand in front of the girls in the first row.

Kindergarten Director Etsuko Nishihira (60) says, "there is writing on the back of the photo that says 'commemorative photo of American doll, Fall 1927'." The doll in the photo is an American "Friendship Doll" given to Kakumei Kindergarten's predecessor, Nariwa Kindergarten. The dolls has come to be known by the name of "Anna." There are only three Friendship Dolls that have been confirmed to exist in Okayama Prefecture.

"The kindergarten became a military barracks for a short time in 1945, but the doll was kept in a storage room together with some records so she would not be found. It would have been terrible if she had been discovered since those were the days of the "devilish Americans and English." Mokoto Otsuka, who worked at the kindergarten during the war, told the story in the February 10, 1980, edition of the Sanyo Shimbun.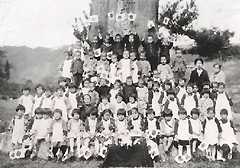 | | |
| --- | --- |
| Commemorative photo of welcome for Anna (Fall 1927, Kohei Park) | |
The commemorative photo from 74 years ago was taken at a park named Kohei Park, about one kilometer to the northwest of the kindergarten. Shown in the background is the memorial statue of Kohei Kiguchi (1872-1894), whose words appeared in textbooks prior to World War II, "Even if I die I will not take my mouth off my trumpet." Sumio Hosokawa (75), Chairman of the Town Cultural Committee, points out, "Since the tradition of Nariwa is to treasure our town's history and culture, we have cherished in the same way both Kohei and Anna."

Anna's height is 38 centimeters. Her hair is brown, and her eyes are gray. The voice mechanism that says "mama" is broken, but even now her eyes open and shut.

Nariwa Town plans to establish a sister-city relationship with Statesville, North Carolina, the state where some Nariwa companies have business relations and where the Japanese Friendship Doll "Miss Kagawa" is kept. Mayor Takeshi Akioka, who will soon travel to the U.S., says, "I will tell Americans that Anna is well cared for, and I would like her to be the foundation of new Japanese-American friendships."

Eight years ago, doll-making hobbyist Keiko Fujii (80, resident of Kamihina, Nariwa Town) sewed the pink dress Anna wears "so she will not be ashamed even when she appears in public."

"She's an old doll, but she's cute," says Miki Nanba (5 years old). Throughout the year--at school entrance and graduation ceremonies, on Hina Matsuri (Doll Festival), and on Tanabata Festival--the children sing and dance with Anna.

(published September 28, 2001)
---
---