Miss Okayama
and Her Times

2 - In the Land of America
Kept Safely Even During World War II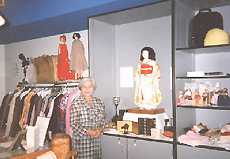 | | |
| --- | --- |
| | Miss Okayama on display in the historical costume resource room at North Dakota State University. Standing is Ms. Yukiyoshi. |
Miss Okayama was standing by the wall with a slight smile on her face.
The doll was in the historical costume resource room of the Apparel, Textiles and Interior Design Department at the North Dakota State University in the U.S. In August of this year, Masako Yukiyoshi (69), Assistant Director of the Okayama Japan-America Cultural Exchange Society, visited to bring Miss Okayama back to her home. Ms. Yukiyoshi began to speak softly. "Yes, being here. Taking care of her so well . . ."
At the university Miss Okayama became a educational resource for learning about peace and a foreign culture. When elementary school and kindergarten children come to the resource room, a curator explains the history of the doll exchange, the kimono, and doll accessories. After damage started to become noticeable, the museum stopped presenting the doll in exhibits and on its homepage, but "children are fascinated when they see the beautiful doll and when they hear the story of friendship with Japanese children," says Ann Braaten, former curator.
The 58 Japanese dolls that arrived in Washington in December 1927 were distributed to each state when the welcome ceremonies ended. Miss Okayama was distributed to North Dakota, which adjoins Canada.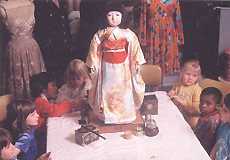 | | |
| --- | --- |
| Children receiving message of peace and learning about Japanese culture from Miss Okayama (North Dakota State University) | |
Since 1928 the doll was kept in an assembly hall in Fargo, the largest city in North Dakota, and in the early 1960s it was moved to the Red Cross office. Since 1973, the State University received the doll and has kept it after receiving a message from the previous caretakers that "we can not bear to keep this splendid doll without showing it to the general public."

Many American dolls that had been given to Japan disappeared as they were destroyed since they were items from the enemy. Out of the about 13,000 American dolls, there now remain 305, less than 3%. On the other hand, 42 of the 58 Torei Ningyo sent to America have been confirmed to exist.

Author Eiko Takeda (71), who has continued to research the Japanese-American Friendship Dolls for more than 20 years, says, "In Japan, where the dolls were given to educational institutions, they were 'dolls' close by the children. But in America, where they were stored in museums, they were considered to be 'objects of art.' They were regarded differently in each country."

Miss Okayama's treatment during the war was not recorded and is not known, but it is obvious that she was well-kept based on the relatively small amount of damage. The many doll accessories, except for the passport and the parasol, are complete as when they arrived. Ms. Yukiyoshi, who accompanied Miss Okayama from her packing to her return home, says with excitement, "Whether at the university or at the airport, the doll got special care and handling. During her homecoming, instead of being lonely, she was shown with a life-size photo panel at the place where she was exhibited."

While Ms. Yukiyoshi stayed in the U.S., she gave a talk about the Friendship Dolls when asked by a junior high school near the university. "One step toward international peace is mutual understanding. That is why Miss Okayama is here."

(published September 24, 2001)
---
---